Walmart is a "big box" store known for low prices on everything from TVs to refried beans. The retail giant will offer one more thing soon; something big box stores like Target and Walmart don't usually sell. Announcing a partnership with CarSaver, Walmart declared war on third party auto lead finders like TrueCar. If you're confused, we can explain.
Will I be able to actually purchase a car at Walmart?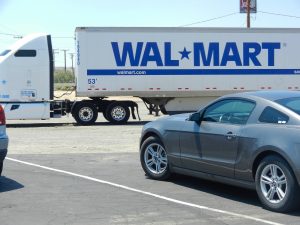 No. Walmart will act as a lead generator. You won't see new cars sitting in from of the store. Instead, you'll see a car buying center inside the store. A representative will help you through the process of choosing a car and you will get quotes from the dealerships you choose. You can also use CarSaver on your computer or phone, or call to get help from a rep. Walmart car shopping will be more of a third-party experience.
How do auto lead generators work?
Auto lead generators like TrueCar and Costco Auto Program do one thing. They give quotes to consumers. When you request a quote, your information is transmitted to the dealership along with the information about what kind of car you want. This information is valuable to the dealer, so the manager pays the lead generator for it. You get to find what you want easily, the dealer gets easy leads and the lead generator gets money from the dealerships.
Is there a downside to this?
Yes, there is. While it will make your life easy and save time for you, you end up paying for at least some of that price that was paid to the lead generator. So when you find a "walmart car," you essentially pay for the convenience it provides. You don't pay for it directly. Rather, the cost gets attached to the sales price of the car, which is often divided into loan payments.
We can't say how much you actually pay for this convenience. Some experts say it can reach up to a few hundred dollars. Keep in mind, though, that every quote (no matter where you get it from) will incur costs on a case by case basis. The car you want may have such little demand that the dealer decides to absorb the costs just to get rid of the car. All we can do is speak in generalizations here.
In any case, these big-name auto lead generators are not the only choices you have. There are some well-established auto quoting services that don't have huge networks of dealers and are able to keep the costs down. We're talking closer to half a benjamin or less, rather than half a grand.
Where do I start?
In case you don't know yet, we are one of those low-cost car quoting services we mentioned. We've been in this business for over a decade and we've helped countless drivers find great deals, many of whom made their purchases before the big-name quote companies were around. We think you should get quotes from us. It's free and there's no obligation. Plus, we'll notify you when exclusive discounts are available.
Click here to search local inventory and get free, no-obligation quotes for new or used vehicles.