As these two pickups are two of the only remaining small (or smaller-feeling, at least) pickups on the market, the Colorado vs. Ridgeline debate is a regular one. This isn't the same pickup with different logos slapped on for differentiation. Quite to the contrary, these are very different pickups, fundamentally. The Chevy Colorado is a rear-wheel drive pickup whereas the Honda Ridgeline comes in FWD or AWD. The Chevy Colorado is body-on-frame as opposed to unibody, which is the construction type of the Honda Ridgeline. The differences are many.
Starting MSRP
Colorado: $25,785
Ridgeline: $29,475
Towing Capacity
Colorado: 3,500 to 7,000 lb
Ridgeline: 3,500 lb to 5,000 lb
As you can see, both pickups have decent towing capacity. You need to upgrade to an AWD RT trim to tow more than 3,500 pounds with the Honda, though. That will run about $31,000. In the case of the Chevy, you can upgrade from 3,500 lb to 7,000 pounds by opting for the 3.6L WT for $27,455.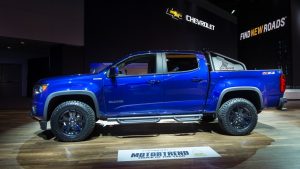 /h3>
One potential disadvantage of the Ridgeline is its lack of engine options. It's 280 horsepower across all trims. On the bright side, that's probably enough for you. The Chevy starts at 200 horsepower and jumps to 308 for an extra $2,000 or so (WT trim). For slightly heavier loads, the Colorado has an edge but if you're considering one of these pickups, it's probably not because you need to haul enormous loads around. You'll probably be just fine with 280 hp or 200 for lighter loads.
Cargo Capacity
The Ridgeline barely scrapes by with an advantage here. It only has more space due to its under-bed storage area, which doubles as a cooler with a drain at the bottom. Taking that area out of the equation, the Chevy can carry a few more bags of grass seed or whatever you need to carry. Both pickups have bed sizes that are just about as large as those of "full-size" pickups such as the Silverado.
Electronics and Extras
The Ridgeline takes the prize for extras. It has an optional 400-wat exterior A/C outlet and an optional 6-speaker, 540-watt sound system for the bed. That's in addition to the interior speakers. It's basically the perfect tailgating vehicle. As for standard, base features, the Honda has push button start, electronic brake distribution, remote entry, truck bed lights, security system and more. Those things aren't available with the Chevy, according to the spec sheet.
Neither pickups come standard with the safety tech that is often standard in modern autos, such as lane keep assist and adaptive cruise control. However, the Ridgeline does include those in the top-of-the-line RTL-E trim. You're out of luck with the Chevy, though it does have OnStar in some higher-level trims.
Before visiting a dealership, get quotes from them all. It's the easy way to weigh your options before negotiating. Click here.