2017 is the year of the affordable one-of-a-kind sports car. It wouldn't be enough to say it's the year of the sports car; we have to be more specific because the cars coming to the market are so unique and so disruptive. Let us show you what we mean.
Jaguar XE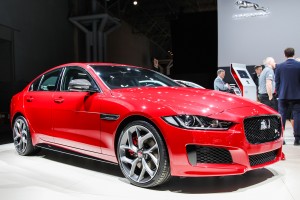 What is it?
It's a luxury sedan available with a 2.0L gas engine or a 2.0L diesel engine, which produce 240 and 180 horsepower, respectively, at base. Upgrade to the 35t trim for an extra 100 horsepower and optional all-wheel drive. It's available already; no longer "coming soon."
Why is it special?
This is Jaguar trying to produce something good that isn't really expensive. The XE starts at $34,000 and maxes out at $58,000. The base model is a great entry level car that is financially manageable for the average American. Moreover, there are diesel and AWD models available, making these vehicles more than just luxurious. They're practical for many drivers as well. We know the base model may not have what it takes to satisfy seasoned Jag fans but it might be just the right car for new Jag drivers.
Tesla Model 3
What is it?
Coming to production in 2017, it's an electric car with a 215-mile range and a 0-60 mph time of less than 6 seconds. The interior features a gigantic touch screen that, we think, will replace a lot of buttons and instrumentation you see in typical cars. Surely, this is one of the most unique affordable cars that will appear in showrooms next year.
Why is it special?
If the Jaguar XE is Jaguar's first attempt to entice the average driver, the Model 3 is Tesla's first attempt to do so. Many Model 3's have been pre-ordered because it's the first Tesla model to have an MSRP below $70,000. In fact, it's well below that, at $35,000. This car could have a big role in convincing drivers that electric sports cars are here to stay, primarily because it has a 215-mile range. Further, it looks shockingly good and it's fun to drive.
2017 Lexus SC
What is it?
This one can only be considered affordable considering its category, since it has an $80,000 price tag (estimated by Car and Driver). At base, it's a 5.0L, 467 horsepower, 10-speed automatic touring car with superb Japanese style. The hybrid version will generate more than 500 horsepower, some say.
Why is it special?
It's powerful, it's beautiful, it's Japanese and it will be available as a hybrid. Competing vehicles won't be able to claim all four of those things. Plus, a turbocharged "F" trim will be available.
Click here to get quotes from dealers in your local area for free. This is the best way to shop for deals, by far.