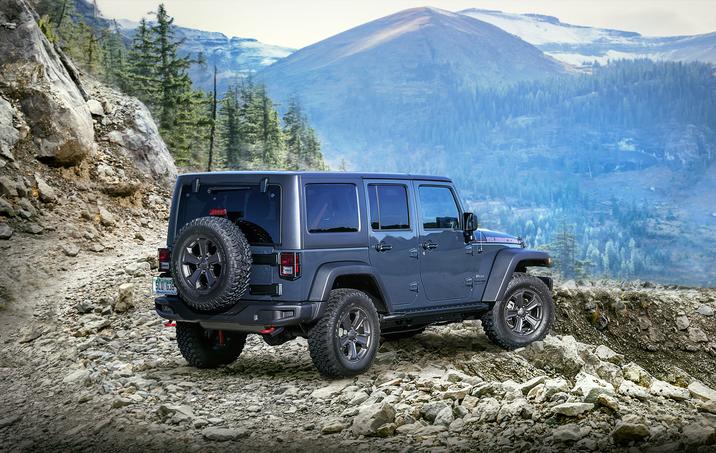 Wrangler sales have been consistent for decades because there's nothing like it. It has been one of the most accessible, most capable SUVs around ever since its beginning, during the world war era. Although the vehicle hasn't fundamentally changed for year and years, there are two-door and four-door models to choose from, plus a new pickup model. Yea, an updated Comanche! Here are some basic features of the SUV models, without an exterior truck bed.
UConnect Infotainment System
3,500-lb towing capacity
3,800-lb curb weight
Two-door or four-door
Foldable front windshield
Hard-top or soft-top
Removeable doors (exposed hinges for ease)
Roll bars (no longer padded)
Diesel or gasoline
Manual or auto
The Refreshed (But Familiar) Look
Like we said before, the Jeep hasn't changed too much but there are some noticeable and exciting updates. The interior is much more visually pleasing than before. There's paint on the dash, which makes a rugged but also a little more refined look. The infotainment system, A/C outlets and other gadgetry are integrated in a beautiful way. The roll bars, which everyone can see after you remove the top, are no longer covered in foam padding. This looks nice. We're not sure how much safety was lost with the removal of the pads but we're sure you can replace them with aftermarket parts.
Pricing and Sales
The 2018 Wrangler has an MSRP of about $30,000. Depending on your demographic, you might be able to save a few thousand from that. Don't expect to get all the information you need from TV commercials or the Jeep website. Your final price will depend on your local market, dealer-specific incentives and your negotiations. Start by comparing prices from competing Jeep dealers in your area. Get a quote for another brand of SUV, just to use when you're negotiating the final sale price. If you have a decent offer on a Nissan Pathfinder and you think it could be a better deal than the Wrangler (imagine you want a Pathfinder, even if you don't), let your salesperson know that. They might be able to improve their price.
You can quickly and easily get local quotes for free. No obligations, of course. Click here.