2007 GMC Savana Passenger Van Review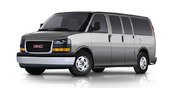 The Chevrolet Express and the GMC Savana are twin vans that debuted in 1997. They replaced the ancient Sportvan, and gave challenge to the equally old Ford Econoline. Both were updated in 2003, with expanded engine options, improved brakes, a beefier frame, and available all-wheel drive.

The BuyingAdvice Team Says:
Able to carry up to 15 people, the GMC Savana Passenger Van holds tremendous storage potential. With its available all-wheel drive, it becomes a surefooted hauler. But compared to the Ford E-Series' lower price and higher payload capacity, it's no wonder it lags behind in sales.

What's New For 2007:
The V6 has been dropped. Instead, a 5.3-L V8 capable of 295 hp is now the standard engine. An E85 compatible version of the engine is also available. The 2500 van is no longer available.
Request a free, no-obligation,
GMC Savana Passenger Van price quote
or choose any other model you're interested in and receive the Buying Advice Team's Insider Report for New Car Buyers.
What is the Predicted Reliability:
J.D. Power ratings are not available. Problems affecting the Express/Savana include engine overheating, engine knock, hesitations, and vibrations. It's been recalled nine times since 2003 for issues such as faulty brake lights, non-latching safety belts, and weak power steering hoses. Expect below average reliability. The basic warranty lasts for three years or 36,000 miles.

Analysis Of Safety Ratings And Features:
The Express earned 5 stars in government frontal crash tests. Other scores are not available. Anti-lock brakes come standard. The 3500 includes standard stability control, but it is not optional on the 1500.

Pros and Cons:
Pros
+ Able to haul up to 15 passengers
+ Plenty of cargo room
+ Powerful engine for its class

Cons
– Poor fuel efficiency
– Expensive for this segment
– Mediocre payload capacity

Head-To-Head Competition:
The Dodge Caravan Passenger Van costs about $5,000 less, includes a standard CD player, and gets up to six more miles to the gallon. However, it has a smaller V6 engine with 110 less hp. The 2008 Ford E-Series Van E-250 costs nearly $800 less and has almost twice the payload capacity, but lacks 70 hp. The Dodge Sprinter Passenger Van has much less cargo room, but can carry over 1,000 pounds more weight.

What Others Are Saying:
"Like other large vans, Savana and Express have all the room most users will ever need, though sheer bulk makes them thirsty for fuel, a handful in traffic, and too big for some garages. Available AWD, StabiliTrak antiskid system, driver-side 60/40 door, and side access panels are useful features. Even without those, GM's vans get the Best Buy nod because they are quieter overall than Ford's Econoline, which matches them in virtually every other measure." – Consumer Guide Automotive
"These (Chevrolet Express and GMC Savana) great big boxes on wheels are mostly intended for tradespeople and shuttle services. Available in equip-to-suit cargo versions or with passenger capacities ranging from 8 to 15, they're of little interest for private use except in conversion-van configurations." – Car and Driver
"The van is a practical giant that doesn't have to make a fashion statement." – The Auto Channel
Read more about the 2007 GMC Savana Passenger Van at the GMC manufacturer web site.