Although the market is never short on large SUVs, Toyota dominates the top spot in this category as it continues to build on its reputation for quality and reliability. Here is our list of the 5 most reliable large SUVs that money can buy.
SUVs (Large)
Rating
9.5 out of 10


9.5 out of 10
9.1 out of 10
6.8 out of 10
6.4 out of 10
Close But No Cigar: None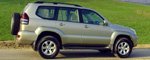 In 1965, the 40 Series Land Cruiser was the bestselling Toyota vehicle in the United States, with global production surpassing 50,000 vehicles. Since then, this rough and tumble vehicle has gone through many changes. The Land Cruiser received traction control and vehicle skid control between 2000 and 2005. Toyota has successfully transformed the Land Cruiser from a genuine off-road vehicle to a luxurious and refined large SUV.
Find Toyota Land Cruiser Cars for Sale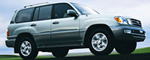 If the Toyota Land Cruiser is too rugged for your discriminate taste, then the posh Lexus LX is the right choice. The Lexus LX is basically the Toyota Land Cruiser dressed in formal clothing. The interior of the LX is also more refined, and the suspension has been designed to provide a smooth and cosseting ride. Extensive use of sound insulation materials also ensures that you get a whisper-quiet cabin on any kind of road surface.
Find Lexus LX Cars for Sale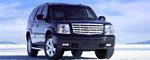 The Cadillac Escalade was first introduced in 1999. It quickly gained notoriety as the conveyance of choice for people who demand utmost comfort and luxury in a large SUV. Buyers can choose between a 5.3-liter V8 and 6.0-liter Vortec V8, but the larger 6.2-liter V8 was standard beginning on the 2007 models. Stability control and anti-skid control comes standard as well.
Find Cadillac Escalade Cars for Sale
The second generation Infiniti QX was the first Infiniti to be built in the United States. This large SUV was based on the full-size Nissan Armada SUV and Nissan Titan pickup, produced from 2004 to 2010. The curvy styling cues of the Infiniti FX may not be for everyone, but it is hard to argue with the luxury and reliability of this full size SUV. Power is derived from a 315hp 5.6-liter V8 engine.
Find Infiniti QX Cars for Sale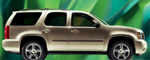 The Chevrolet Tahoe is one of the most recognizable large SUVs. When the Blazer suffered slow sales in the mid-90s, Chevy decided to redesign it and renamed it the Tahoe. The 2000 model was based on the new GMT800 truck platform, and is powered by the 4.3-liter Vortec V8 engine and the 5.3-liter V8. If you want a reliable truck with a smooth ride and an impressive towing capacity, the Chevrolet Tahoe is a solid choice.
Find Chevrolet Tahoe Cars for Sale