The vehicles listed below earned the top spots on our list of best choices for pre-owned sports cars. All these vehicles offer car buyers with a reliable used sports car at an affordable and friendly price.
Sports Cars
Rating
Close But No Cigar: Toyota Celica,
Subaru Impreza WRX, Mini Cooper,
BMW Z3, BMWZ4, Nissan 350Z
The Mazda MX-5 remains to be a solid choice for an affordable and reliable used sports car. The American market got a first glimpse of the Mazda MX-5 Miata at the 1989 Chicago Auto Show. This sporty convertible is the world's biggest selling sports car, with 720,407 units sold between 1989 and 2005. The first generation MX-5 Miata roadster was powered by a 1.6-liter inline four-cylinder engine that generates 120 horsepower. The 130hp 1.8-liter engine was introduced in 1994. The original MX-5 Miata was descended from the affordable and sporty British roadsters of the 1960's, a trait that is still enjoyed by millions of people from all over the globe.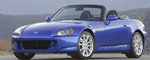 The Honda S2000 is a true sports car with the same level of reliability and durability as other Honda cars in the market. Introduced in the year 2000, the Honda S2000 was conceived to celebrate the 50th anniversary of Honda. It boasts of one of the most powerful naturally-aspirated 4-cylinder engines introduced in the market, along with a four-wheel double wishbone suspension and rear-wheel drive. The 2.0-liter inline 4-cylinder engine of the S2000 can crank 240hp and rev to an unbelievable 9,000 RPM.



The Ford Mustang remains to be an iconic and affordable sports car. The 5th generation model Ford Mustang earned high praises not only for the retro-inspired exterior styling, but for delivering a durable and refined interior along with impressive levels of performance. Car buyers can choose between a 210hp V6 or a 300hp V8. The Mustang offers 2+2 seating and is available in coupe and convertible body styles.



The Mazda RX-8 is unique as it offers the looks, feel, and performance of a true sports car while still offering the practicality of a sedan. The RX-8 offers seating for 4 people, with the clever rear doors providing easier access to the rear seats. The Mazda RX-8 is the spiritual successor of the iconic RX-7, and is hence powered by a high-revving and creamy-smooth 1.3-liter rotary engine dubbed Renesis by Mazda engineers.



It comes as no surprise that the Hyundai Genesis Coupe made it to our list of the 5 most reliable sports cars. The Genesis coupe was created to deliver impressive performance in an affordable and reliable package, backed-up by Hyundai's reputation for outstanding build-quality, supported by the comprehensive Hyundai warranty. The Genesis Coupe is also offered in 4-cylinder turbocharged versions, or the option of a torque-rich V6 engine.


Find New Cars
Search By Car Type
SEARCH BY MANUFACTURER
Recent Blogs About Car Buying Tips
Top 5 Used Cars By Category
* Offers on this site are available only to residents of the United States. Reproduction in whole or in part in any form or medium without express written permission of BuyingAdvice.com, INC., is prohibited. BuyingAdvice.com, INC., uses reasonable efforts to ensure the accuracy of information posted on this site, but does not provide any guaranty of accuracy. There may be errors, inaccuracies or omissions in information on this site. Accordingly, BuyingAdvice.com, INC., disclaims any responsibility or liability for errors, inaccuracies or omissions. Your privacy is our policy.