Lexus leads the way in the field of highly rated reliable luxury sedans, earning several top 5 picks. With strong ratings for all our picks, these manufacturers are living up to their reputation for producing comfortable, reliable vehicles.
Sedans (Luxury)
Rating
9.8 out of 10
9.7 out of 10
9.7 out of 10
9.6 out of 10
8.3 out of 10


Close But No Cigar: Volvo S80,
Cadillac STS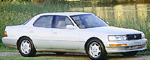 The LS series brought luxury to a large number of American auto buyers. Toyota's LS series became the first Asian import to successfully crack the U.S. luxury sedan market. The LS 400 was first introduced in 1990, and morphed into the LS 430 in 2001. The LS430 was the first V8 engine to receive Ultra-Low Emissions Vehicle certification in the U.S.; it has been rated as the most reliable luxury sedan by J.D. Power and Associates for 2001 through 2006. This Lexus luxury vehicle also rates top of the heap when it comes to the fewest number of defects after three years of ownership.
Find LS430, LS400, LS430 Cars for Sale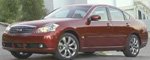 This new release from Infiniti sits on the same platform as the G35. Luxury amenities include the standard satin-finish rosewood trim. High-tech special touches added to the M35 include intelligent key with push-button starting, a lane departure warning system, rear view monitor, adaptive front lighting system, intelligent all-wheel drive, a Bluetooth wireless connection, Bose Studio Surround Sound System, and rear active steering.
Find Infiniti M35 Cars for Sale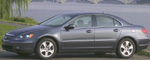 In 1996, Acura released the RL series to replace the Acura Legend. By 1999, the RL was given a stem-to-stern redesign, adding Xenon headlights and integrated fog lights. The suspension and chassis were also changed, making them firmer, and safety got an upgrade with the addition of driver and front passenger air bags. In 2002, to take this top-of-the-line luxury sedan up another notch, Acura improved the engine to bring it to a 225 horsepower output. As an added safety measure, OnStar was also included. The addition of Acura's all wheel drive system and traction control in 2005 not only made the RL handle better but earned it the "Tech Car Of The Year" award from cnet.com.
Find Acura RL Cars for Sale
The ES was first sold in 1989 and since then has developed a strong following and comes highly recommended by consumers. The older models come with 3.3-lier V6 engine while post-2007 models have a 3.5-liter V6 engine. It is dependable, safe and has good fuel economy. The interior and exterior speak volumes of the luxury car driving experience. If you desire lavish comfort, the Lexus ES delivers.
Find Lexus ES Cars for Sale
Mercedes is synonymous with luxury and class. The E320 and E350 come with either rear wheel or 4Matic all wheel drive. You will feel completely secure in this luxury vehicle as even the 2007 models utilize advanced technology of seatbelt tightening and readying the breaking system, delivering max break protection when a collision is sensed. It also performs well in crash tests and comes highly recommended by consumers. If you want a luxury used car, look no further than the E320 and E350.
Find Mercedes-Benz E320 and E350 Cars for Sale