2012 Suzuki SX4 Crossover Review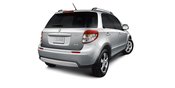 The 2012 Suzuki SX4 is a compact car offered in 2 body styles, sedan and a 4-door hatchback; the sedans and the "Sportback" version of the hatchback are FWD only, with the "Crossover" hatchback available only with AWD. The sedan comes in 4 trims, base, LE, LE Popular Package and SE; the base is equipped with standard features that include full power accessories, trip computer, 60/40 split folding rear seatbacks to name a few. Upper trims add further convenience and high-tech features. The SX4 Sportback offers 2 trims and the 4WD Crossover hatchback is available in 3 trims. All SX4 models are equipped with a 2.0 liter 4-cylinder engine producing 150hp/140lb-ft of torque.
The BuyingAdvice Team Says:
Buyers on a tight budget who need an affordable option for an AWD hatchback that offers versatility and generous cargo space should put the 2012 Suzuki SX4 on their list of considerations.
What's New For 2008:
In 2012 the Suzuki SX4 sedans received stability control and disc brakes in the rear as a standard features; while the Sport S, GTS and LE Anniversary Edition trims were discontinued to streamline the model lineup.
Request a free, no-obligation,
Suzuki SX4 Crossover price quote
or choose any other model you're interested in and receive the Buying Advice Team's Insider Report for New Car Buyers.
What is the Predicted Reliability:
Reliability for the 2012 Suzuki SX4 has been above average and based on the latest survey, reliability of new models is expected to be 28% above average. The Suzuki SX4 received an overall score of very good range in the small hatchback/wagon segment with a 73 compared to the high score of 85 and the lowest scoring vehicle with a 49. High marks were given for cabin access and visibility, versatility, easy controls and braking.
Analysis Of Safety Ratings And Features:
In safety testing by the Insurance Institute for Highway Safety, the Suzuki SX4 received a high score of "Good" for side crashes and frontal offset, with "Marginal" for roof strength tests. In government testing the NHTSA gave the SX4 an overall safety score of 4 Stars out of 5. Every 2012 SX4 is equipped with stability control, front/backseat side/side curtain airbags for all outward passengers and antilock disc brakes.
Pros and Cons:
Pros
+ Affordable AWD system on hatchback
+ Navigational system comes standard on higher trims
+ Long warranty for the powertrain
Cons
– Tilt-only steering wheel
– Interior materials are just so-so
– Dealership network is somewhat limited
Head-To-Head Competition:
The Suzuki SX4 has a lower starting price than the Honda Fit and Kia Soul, along with the more powerful engine at 150 horses; compared to the Fit's 117hp engine and the Soul rated at 138hp. The SX4 also has the larger gas tank at 13.2 gallons with the Fit's tank holding 10.6 gallons and the Soul with a 12.7 gallon tank. The SX4 and Fit offer basic warranties of 3years/36,000miles and the Kia comes with a 5year/60,000mile warranty.
What Others Are Saying:
"It's the versatility thing: city-friendly dimensions and the ease of a small hatch, with all-wheel-drive security." –The Motor Report
"Although it definitely feels cheap, there's something about the Suzuki that feels more rugged and solid than the other cars here," opined Febbo. "The Suzuki feels like it will shake abuse off and keep going for years." –MotorTrend
"This is a zippy, energetic little car, and I racked up considerable miles running errands, taking the girlfriend out to dinner and then visiting a gleaming new General Motors factory the next day. That's a lot of seat time, and a lot of time to reflect on this sporty little hatch . . . I actually found it quite fun to drive." –AutoWeek
Read more about the 2012 Suzuki SX4, at the Suzuki manufacturer site.