Find True New Car Manufacturer Invoice & Real New Vehicle Prices from Area Dealerships. Save $1,000s on a New Car or Truck!
Request a FREE, No-Obligation, New Car Price Quote and you will receive the
Buying Advice Team's Insider Report
for New Car Buyers.
Our report reveals common hidden dealership fees and special deductions from invoice price. We'll show YOU how to figure dealer cost and sales commission!
For the past 7 years, The BuyingAdvice Team's Insider Report has been the ultimate authority on new car buying. We strive to give you the most independent and unbiased advice, and secretive information.
One member of the Buying Advice Team purchased a new Ford Explorer for $1400 below manufacturer invoice cost!
Enter a Make, Model, and Zipcode.
You will be provided with a
Current Price Quote
from a dealer in your area.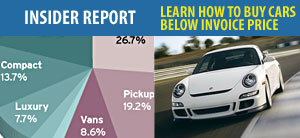 Insider Report Sneak Peak:
True Dealer Cost for All / Models
How you can get No-Money Down, low payment leasing deals!
Common Hidden Dealership Fees and Tactics
Special Deductions from Invoice Price
The Real Cost of Aftermarket Accessories