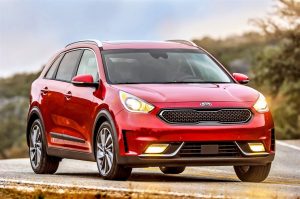 The Kia Niro is a hybrid SUV that appears rather mundane. However, the industry thinks it's special. Just google "Kia Niro" and you'll see a page full of praising headlines from all over the net. The Niro is one of two vehicles that might put Kia in contention with top value brands like Honda and Toyota. The other is the Stinger, which is Kia's first vehicle that can be referred to as a true sports car. We think they're both bold moves. What's so special about the Niro?
The Niro is extremely efficient, clocking in at about 50 miles to the gallon. Dual clutch transmission is included in all trims, which helps the vehicle achieve its 52/49/50 fuel efficiency. That's 52 mpg on the highway, 49 in the city and about 50 on both. It also has good range, meaning 25 miles electric-only and over 500 miles in hybrid mode.
The Kia Niro starts at $22,800, which is about $2,000 less than the base Honda CRV (non-hybrid) and the Toyota Prius. It's also about $1,000 less than the base Ford Escape. It would be an uphill battle to argue that the Niro is overpriced. For a hybrid crossover SUV with horsepower and amenities similar to all the above vehicles, it's probably the most affordable option. The best comparison might be Toyota's hybrid Rav4, which has an MSRP of $30,000.
Some of the features included in the base Niro are automatic transmission, keyless entry, rearview camera, cruise control, bluetooth for infotainment, seven air bags and a 7-inch display on the dash. The top-of-the-line Niro goes for around $30,000 and includes Harmon Kardon audio and heated and vented seats among other premium features.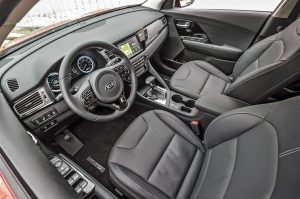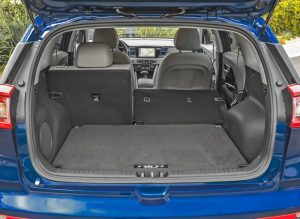 As I said before, most critics find few faults with the Kia Niro. It handles well, for one thing. We can assume it's reliable, as studies and surveys have proven Kia to be a reliable brand. It's comfortable, with 37, 42 and about 40 inches of rear leg, front leg and all around head room, respectively. It functions like a typical crossover does, too. It isn't a classic SUV, however. It doesn't have 4WD with locking differential but that's probably not what Niro drivers will require. Perhaps, if sales are good, Kia will add all-wheel drive and a towing package to future generations. Of course, that $22,000 price tag would have to be adjusted for that. We would bet the new price would still be the lowest of comparable vehicles.
Now do you agree that the Kia Niro might be the car of 2017? It might even be the car of the next decade if it can replace the Prius as American's favorite hybrid. Judging by the popularity of crossovers right now, we wouldn't bet against it.
Get a free price quote from each of your local dealers. It's the easiest way to locate the best price on your next vehicle. Click here.
​